Habitats at the Sanctuary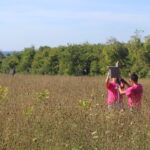 Grassland
Throughout the years, Norman Bird Sanctuary has restored and maintained over 40 acres of grassland habitat for species such as Bobolinks, Eastern Kingbirds, and Savannah Sparrows. This includes the installation of 300 nest boxes annually that provide critical habitat for hundreds of Tree Swallows and Eastern Bluebirds.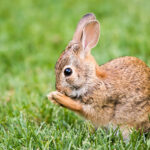 New England Cottontail Habitat
Along the Norman Bird Sanctuary Third Beach Property, yards of autumn olive, porcelain berry, multiflora rose, and other non-native plants have ben removed. Native fruit-bearing shrubs have been replanted in their place to enhance the habitat values of this are for the re-introduction of the rare New England Cottontail.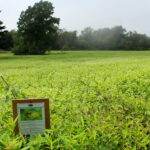 Pollinator
2.5 acres of pollinator habitat have been restored within the Norman Bird Sanctuary main campus fields. This has involved the removal of invasive plant species and their replacement with a pollinator-friendly mix of plants and flowers that will sustain important populations of birds, butterflies, bees, and other insects.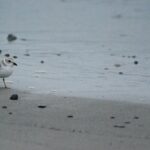 Ocean
The Norman Bird Sanctuary cares for a portion of Third Beach, located in Middletown, Rhode Island. Recently, our Properties and Education teams embarked on a mission to restore the dunes, installing split-rail fencing for dune protection and developing educational signage about why protecting this habitat is so important for the local ecology.